Things to do in Brisbane
Spotting koalas and kangaroos is one of the main reason people love to visit Australia. The best place to spot Koalas is Lone Pine Koala Sanctuary. It is the world's first and largest koala sanctuary. It is located 12 km from Brisbane city. To reach here you can hire a bus, take a public bus or hop on the river cruise from Southbank.
It is home to 130 koalas many of them born within the sanctuary. Here you can also find more than 100 species of Australian native wildlife such as kangaroos, common wombat, lorikeets, echidna, red-tailed black Cackoota, emu, major Mitchell, bats, barn owl, lace monitor, border collie and many more.
Through their interactive shows and activities, you can not only see the wildlife but also develop a connection with them. Koalas here are friendly as they are regularly handled by humans most of their lives. You can hug them if you wish. Kangaroos are in 5 acres of open area so you can hang out with them, take photographs and feed them. Keep in mind to buy the kangaroo food from the store at the entrance as that is the only food you should be feeding to them. Handfeed lorikeets with their prepared nectar mix at the edge of the river.
There is free outdoor movie screening every 1st and 3rd Friday of the month. You can make a picnic out of it. Enjoy the movie with great food available at the food stalls and riverside cafes.
https://koala.net/
Brisbane botanic garden mount coot-tha
Brisbane Botanic Garden is a part of Brisbane city council's Mt Coot-tha leisure and adventure precinct. This Queensland's leading subtropical botanic garden is only 7 km away from the city centre.
They have various sections dedicated to Australian native rainforest trees and natural wildlife. Arid Region Plants showcase the plants from the dry regions of Central America and Africa. 27-hectare area of these gardens is dedicated to the Australian Plant Communities which has native Australian plants mostly from Queensland. National Freedom Wall in honour of 50 years of freedom. Witness Exotic and Australian rainforest.
Here you can explore Hide 'n' Seek Children's Trail. Japanese Garden has a Japanese design concept with the plants suitable for the subtropical climate. See 80 different varieties of ferns in Ferns House. Bonsai House has over 100 plants. Fragrant Gardens is all about the fragrance. Wake your sense of smell with its wide range of medicinal herbs, culinary herbs, flowers, aromatic foliage. You can see Tropic plants in Tropical Display Dome.
The temporary art platform (The Platform) is a Gold Coast 2018 Commonwealth Games legacy project. The Platform features temporary artworks, displayed for up to 12 months.
https://www.brisbane.qld.gov.au/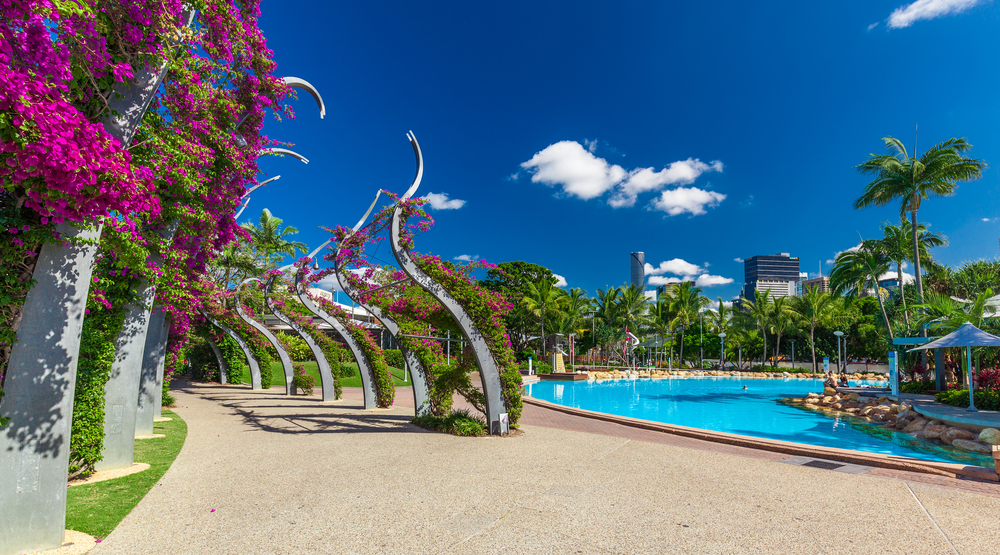 South Bank is Brisbane's most happening place. It is a place where your whole family will enjoy to the fullest.
South Bank Park-lands is the main attraction of the South Bank. Arbour is made up of the bougainvillaea flowers and creates a beautiful pedestrian walkway.  Wheel of Brisbane and Nepal Peace Pagoda are the must visit. Community events mostly take place in an open-air amphitheatre called  Courier-Mail Piazza.
You can not miss the streets beach in parkland which is a man-made beach and boat pool. Aquativity is the ideal place for some wet fun. you can also enjoy the CityHopper which is Brisbane's free ferry service. It departs South Bank from Terminal 3 every 30 minutes runs from 6 am until midnight daily. It stops at several points along the Brisbane river including.
Live music, great food, kids adventure, spectacular sightseeing and scenic strolls make it the most eventful destination of Brisbane.
https://hireabus.com/blog
Ekka is back! The much-loved Royal Queensland Show, affectionately known as the Ekka, will return to Brisbane's RNA Showgrounds from 9-18 August. The show brings together the city and country for a celebration of agriculture.
The Ekka showcases the best of Queensland, from award-winning animals, to live entertainment, carnival rides, showbags and delicious food. We've compiled our top favourite things to see and do at this year's event.
Ekkanites
Each night of the Ekka, the Main Arena comes alive with two hours of spectacular entertainment. Prepare to be amazed by this free performance and finish your day with a bang watching the stunning fireworks display. Read more about Ekkanites.